The final day of the Colorado Grand was indeed a Grand Day. Great weather, awesome roads.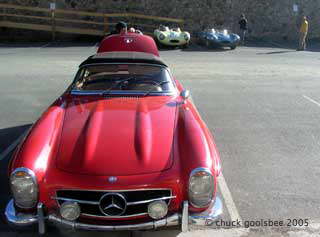 Above: Packing for the trip. D-types draw some admirers.
We packed the 300sl for the final day's drive as the sun rose over the mountains of Crested Butte. We had eaten a leisurely breakfast so many rally cars had already left. The D-types parked behind us had a small crowd of admirers. I joined them for a bit and found out that one guy was in town for a wedding and didn't even know the Grand was here. He was a Jaguar owner, of 2 E-types. I chatted with him a bit, and left him with my business card and a suggestion to register his E-types on XKEdata.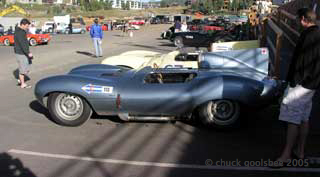 Above: Two Jaguar D-types.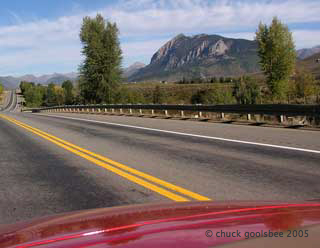 Above: Leaving Crested Butte.
We drove back down the valley with Crested Butte at its head and into Gunnison for some gasoline. From Gunnison we drove east on US-50, then south of Colorado 114. CO 114 is a wonderful road. It winds south and up through a narrow canyon, then up and over North Pass, descending into the spectacular San Luis Valley to Saguache. The road was empty except for rally cars, a couple of trucks, and one RV from Texas. I was navigating for the way up the pass, and since it required no real navigation, I took photos. The first group of rally cars we passed were a group of red cars, two Porsche 356s and a T-bird (and one Mercedes rally support vehicle):
Above: Heading up CO 114, into the canyon.




Above: Following a Porsche 356 through the canyon.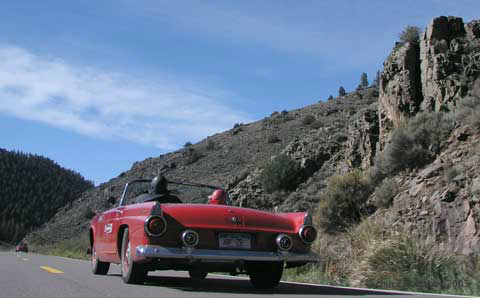 Above: Gerry & Nancy Sutterfield's 1955 Ford Thunderbird.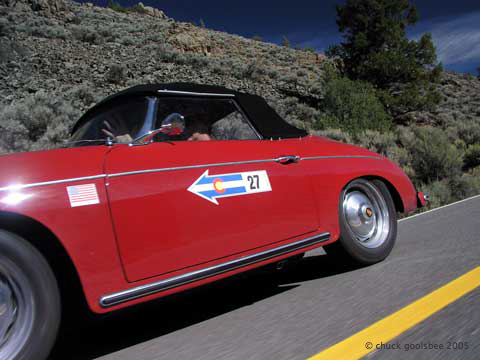 Above: John & Laurie Rowland's 1959 Porsche 356A Convertible D.
Once through the rally cars, I just enjoyed the ride up the pass and took photos.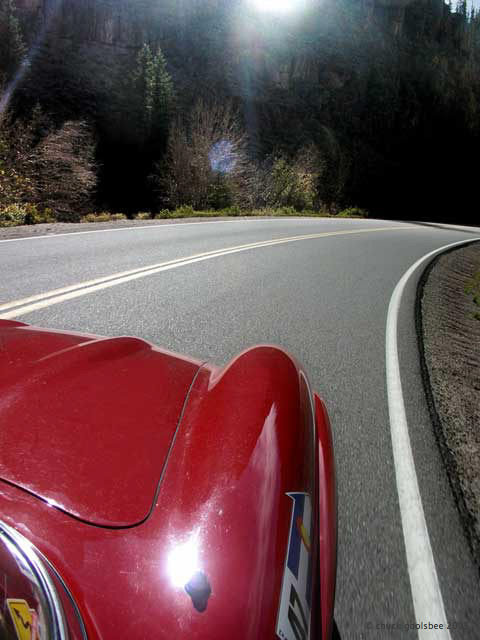 Above: That looks like a great magazine cover shot eh?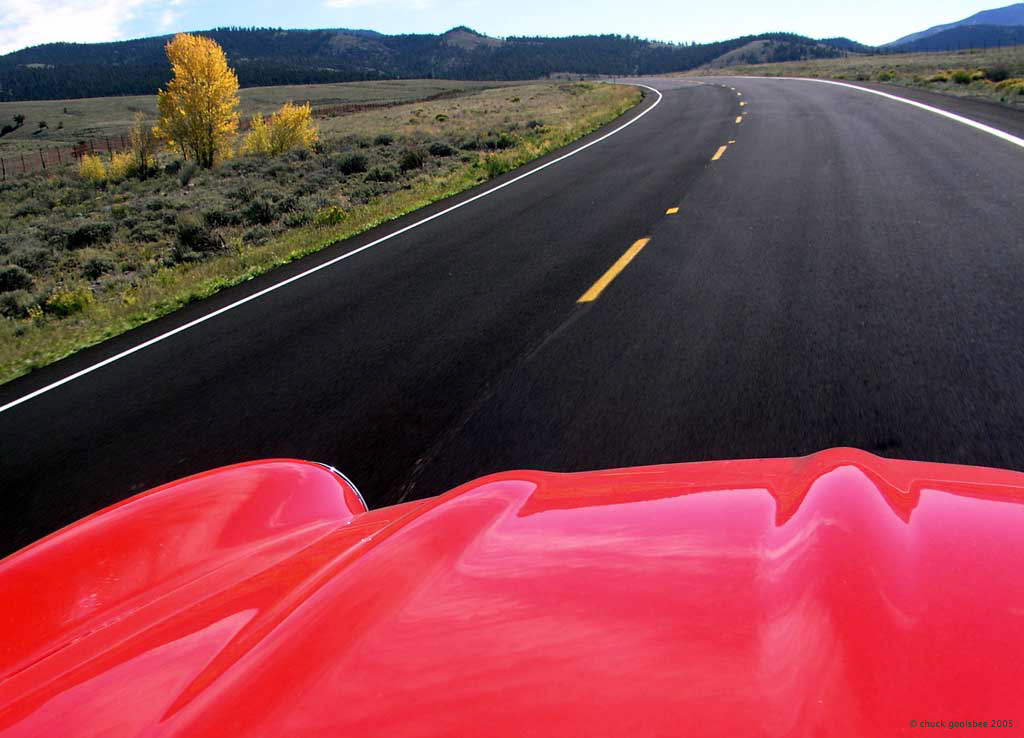 Above: A lone turning aspen on the way up North Pass.




Above: Terry & Noel Hefty's 1959 Aston-Martin DB4GT




Above: Almost to the top of the pass.
---
We stopped at the summit of the pass, stretched our legs and switched drivers. A few rally cars went by, as well as that RV and truck. Right as I was pulling onto the pavement the 1953 Siata 208S driven by Robert & Larry Davis blew by at a high rate of speed. I tried to keep up but that little Italian masterpiece just pulled away and vanished over the horizon in a few curves. Dad and I took my E-type on the Mille Autunno last year and the Davis' were there and the roles were reversed. Amazing what a few years of development can do in automotive engineering... the E-type's brakes and suspension allow for much faster cornering than the 300sl, not to mention the XK engine's famous torque.

We descended into the San Luis valley, which looks like a slice of Nevada transplanted into southern Colorado. A broad flat dry expanse, ringed by mountain ranges. It has been over 20 years since I was last here... the summer of 1983 or so when me and three other guys climbed a new route on the west face of the Crestone Needle. Unlike most Colorado valleys the San Luis appears unchanged since those days.

Dad took over the photographic duties and for the most part did pretty well. His aesthetic seems to revolve (pardon the pun) around rotation along the axis of the lens. I will properly credit his photos and let you decide if it works.

I passed the RV and then later the truck, who seemed determined to keep up with us. It took me a while to put a quarter to half mile between the 300sl and the big 18-wheeler. At one point I recall checking my rear view and seeing the truck about a half mile behind me, and then I swear less than 30 seconds later I was startled by the roar of a V-8 in my left ear. It was Toby Silverton running the 1956 Bristol 408 Factory Prototype ... at a very high rate of speed ... and passing us like we were standing still (we weren't loafing either!) I bet Toby was grinning ear-to-ear. You don't ever see wide open, rural two-lane roads like this in England.

We wound our way down to the valley floor, and into the town of Saguache, leaving the wonderful Colorado Highway 114 behind forever. US 285 took us on a tour of the extreme north end of the San Luis valley and up over Poncha Pass to Salida for lunch. Along the way we were buzzed by two Air Force F-16s. We also passed Miles Collier & Scott George in their old Packard race car, and Chris & Rita Leydon in their 1935 MG K3/KN.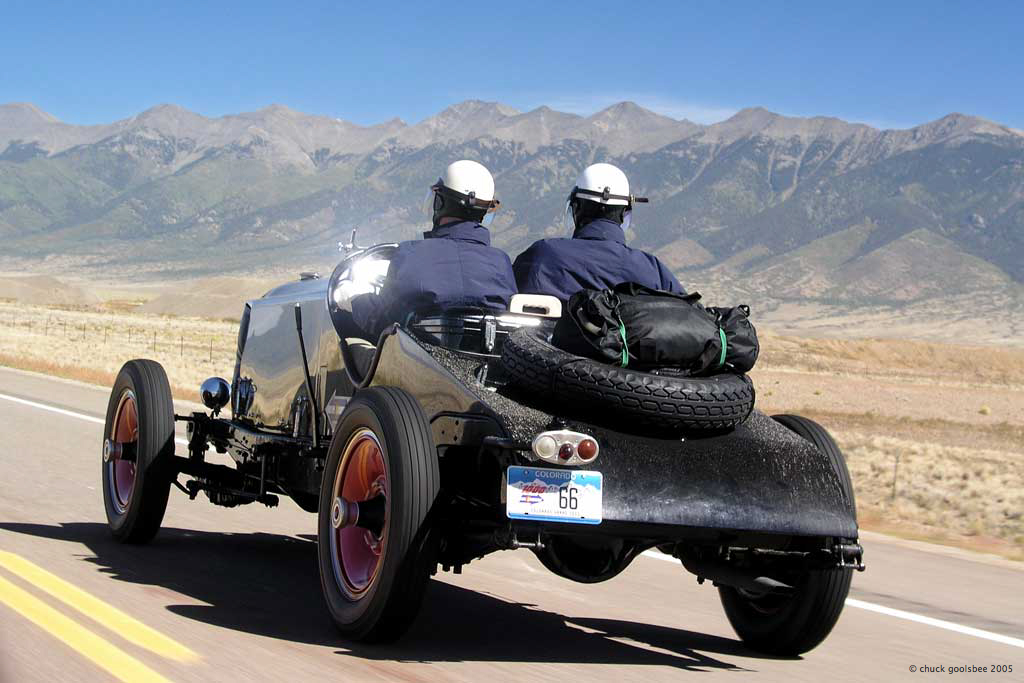 Above: The Packard (I wish I had more info about it, but the route book listed them as bringing a 1958 Porsche Carrera GT Speedster and the book's photo showed a pre-war Alfa Romeo. Go figure!) Photo: Charlie Goolsbee




Above: The 1935 MG K3/KN. When my Dad was restoring a 1950 MG TD in our garage when I was about 10, I remember reading lots of MG books that he had. Of all the MGs the Supercharged K3 is what always caught my eye. It looked like serious fun. I have only seen pictures of them until now. What a delight to see a runner here! Photo: Charlie Goolsbee (great shot Dad!)
We next followed another car I had never seen in person, much less running, until this week: a 1937 Jaguar SS100 (3.5 Litre). This was the car that started Jaguar's racing heritage, winning many pre-war ralleys and races. This is a very well-preserved (or well-restored) example, with a wonderful sounding (though loud) exhaust note. I photographed it the first day at lunch, but haven't seen it running until now. What a gorgeous car!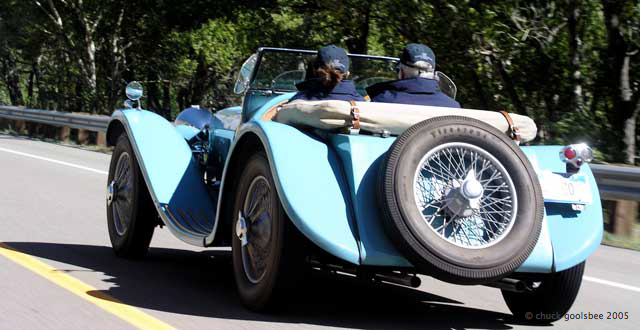 Above: The 1937 Jaguar SS100 driven by Tom & Shauna Mabey. Photos: Charlie Goolsbee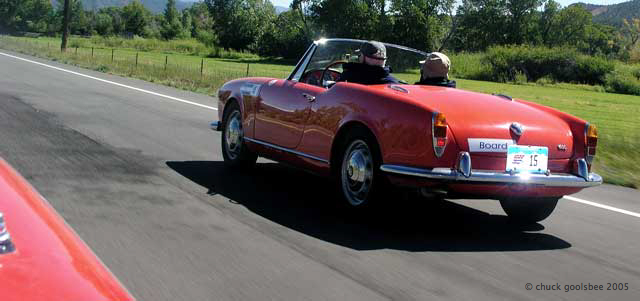 Above: A 1965 Alfa Romeo Giulia Spider. Photo: Charlie Goolsbee
We passed a few more cars, including Barron Collier in the (repaired!) Alfa SZ1, but Dad managed to miss them in his confusion over my (admittedly complicated) camera controls. Oh well. I won't show you his errors, and focus instead on his good shots above. I do love that MG shot.
---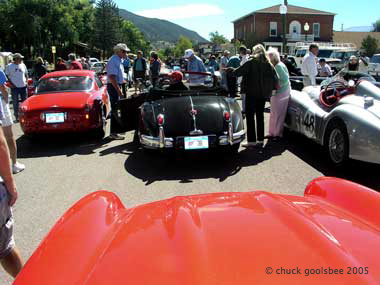 Above: triple-parked in the middle of the street. Packed in like steel sardines in Salida.
We arrived in Salida for lunch. There was supposed to be a well organized car show arrayed around the park. Instead we arrived in essentially chaos... with us coming to a forced halt in the middle of the street, with nowhere to park. We eventually just parked it where it lay, and left it for some food. We ate some sandwiches, homemade sweet potato chips (interesting) and spinach salad with fresh peaches (tasty). It was hot, so we sat in the shade of some big cottonwood trees.
Since we were trapped by barriers and the entire population of Chaffee County all ogling cars, I wandered about after lunch, doing what I always do when surrounded by cars... take pictures.
It is always a challenge to get good pictures when you are surrounded by people, few of whom are really paying any attention to their surroundings as they are really just dealing with the sensory overload of the magnificent hardware that is all around them. I mean, how often do you find yourself surrounded by entire fleets of Mercedes 300SLs, Ferrari 250GTs, Jaguar XK's, not to mention single examples of pre-war Alfas, and Delages. Add to the rare racing machines like D-type Jags, and Maserati 200SIs! So I slither through the crowd, and do what I do best, which is take close ups, odd low angle shots, and occasional groupings of cars by waiting patiently for gaps in the crowd...
I love finding similarities or themes among cars parked near each other...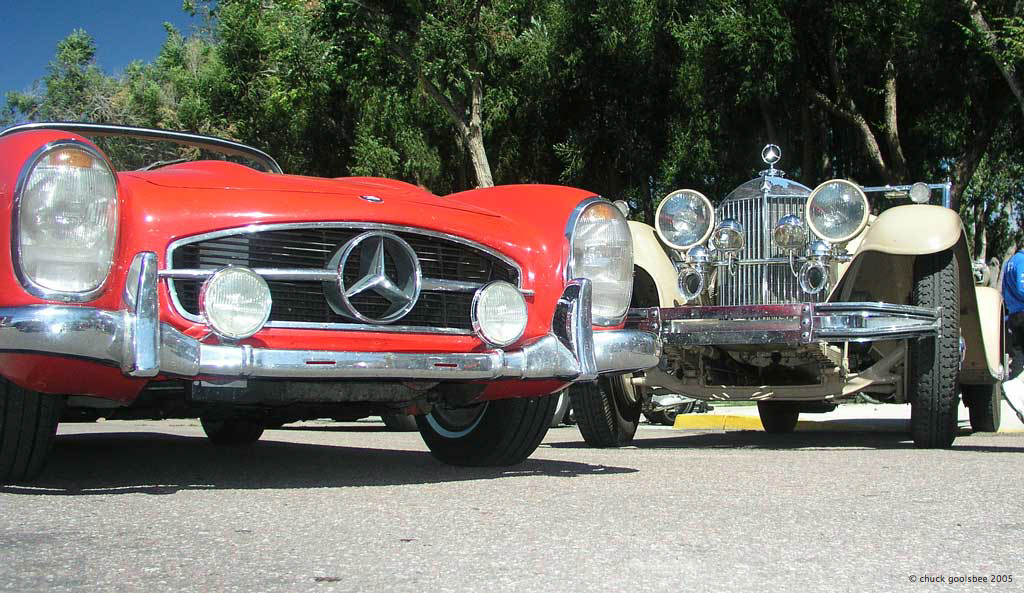 Above: Post- & Pre-war Mercedes-Benz'
Above: While parked in Telluride some lady in an SUV backed into this Jaguar XKSS. I wonder what her insurance company will do to her when they discover she had a "bonnet bender" with a one-of-sixteen-ever-built car? Update, late September: Ironically, two weeks after the Colorado Grand, I experienced my very own bonnet bender! Of course my old car is not as rare a jaguar as an XKSS, but at least I can sympathize completely now. (sigh)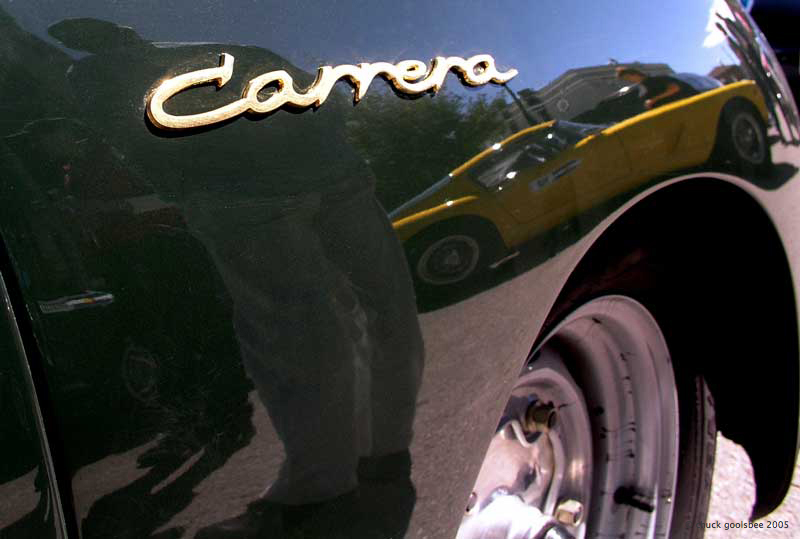 Above: yellow Ferrari 250 SWB reflected in the fender of a Porsche 356 Carrera.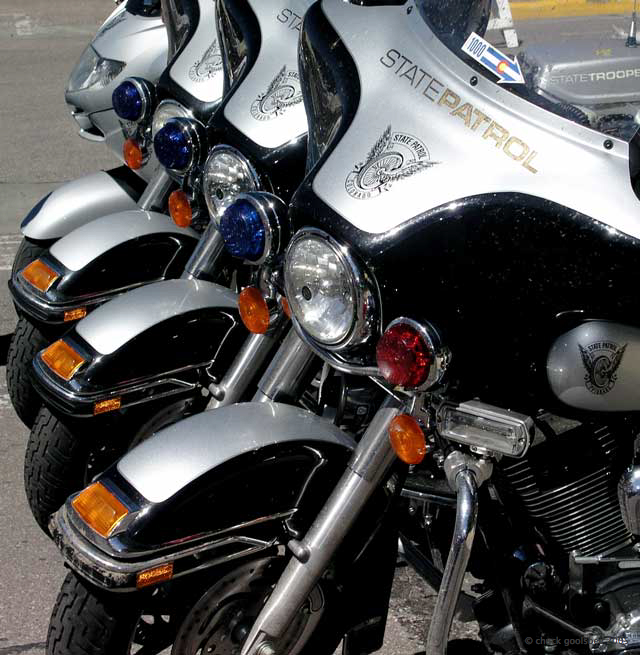 Above: The bikes of our Colorado Highway Patrol "Motors."
Above: Pre- & Post-war Jaguars.
Above: The Peerless Eight "Green Dragon."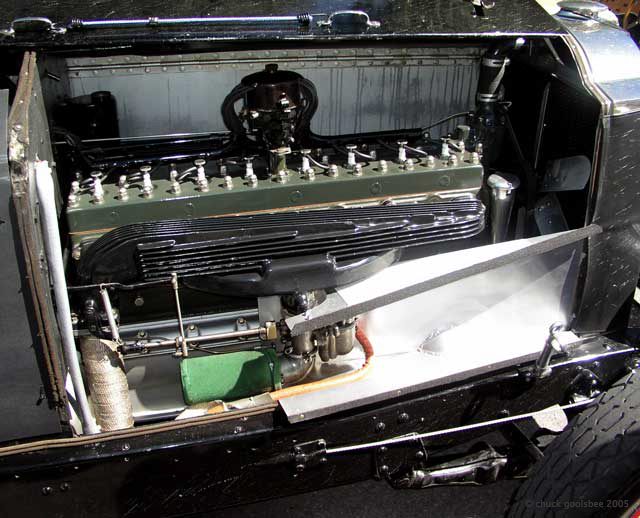 Above: The straight eight flathead engine of the Packard.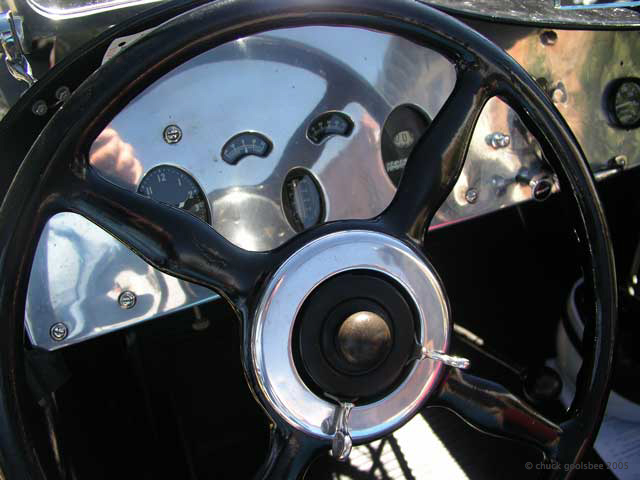 Above: The dash of the Packard.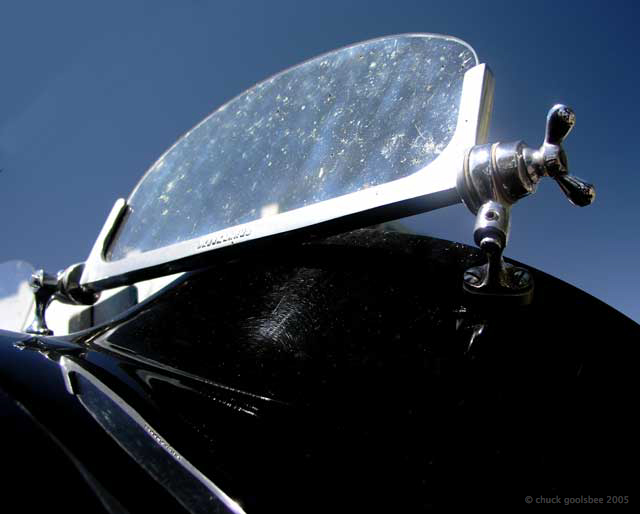 Above: The Brooklands windscreen on the Packard.
Above: Two boys get a "ride" in the Peerless.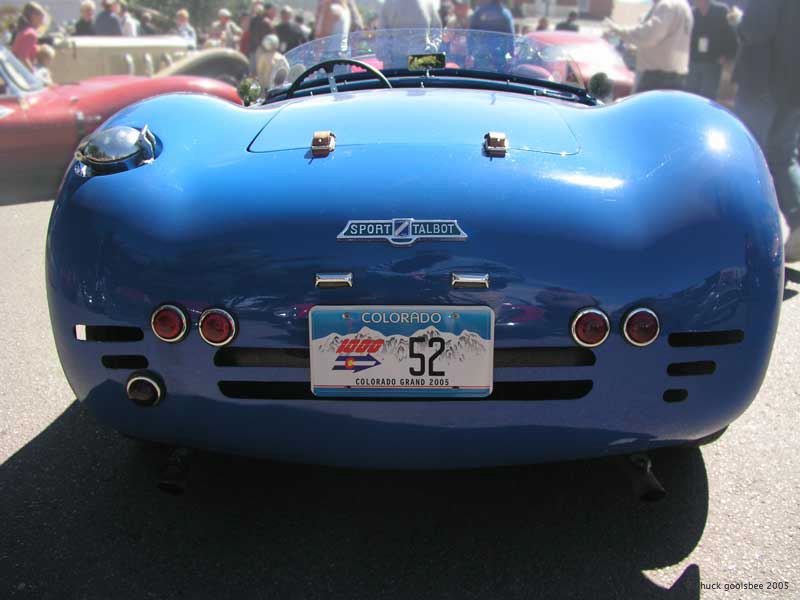 Above: Two views of the Talbot-Lago.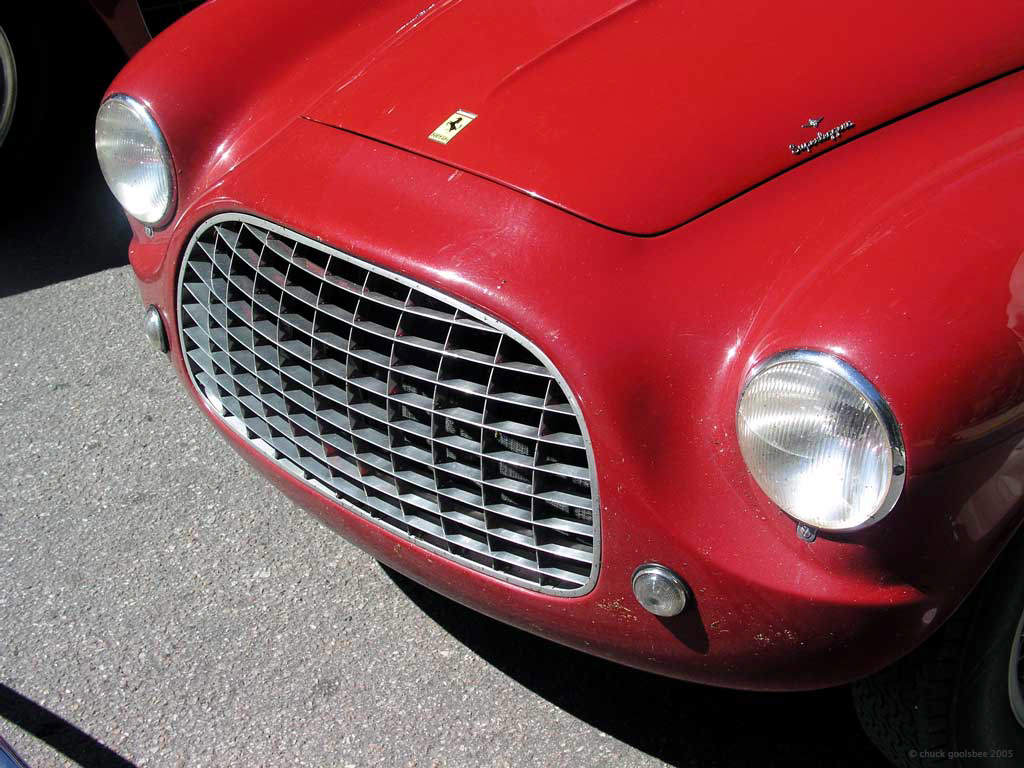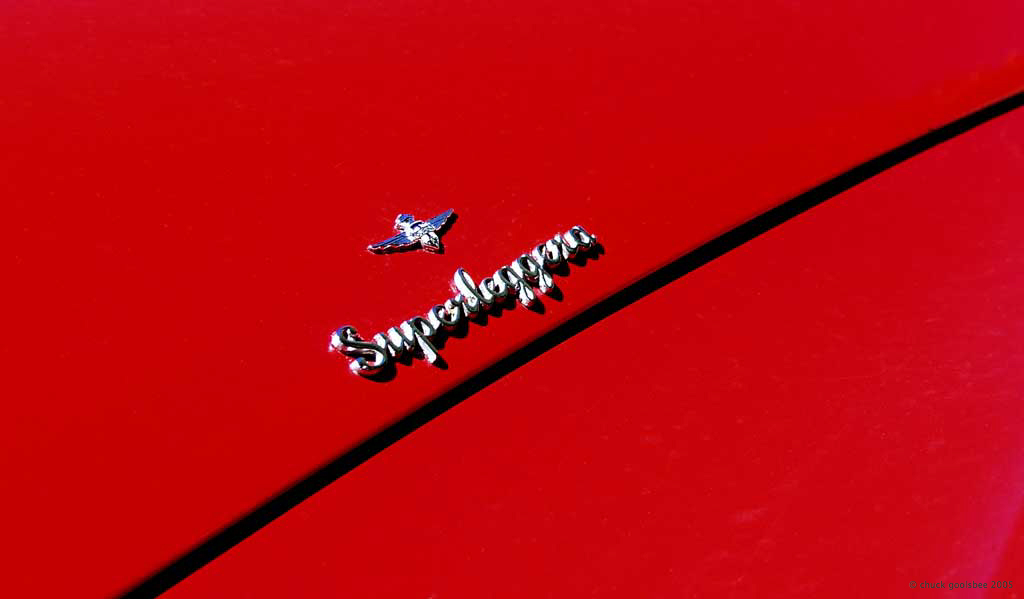 Well-weathered leather,
Hot metal and oil,
The scented country air.
Sunlight on chrome,
The blur of the landscape,
Every nerve aware.

'Red Barchetta' - Rush from 'Moving Pictures' 1981
Above four: Yep, it is a real live Red Barchetta - in the flesh. Bill & Linda Jacobs' 1952 Ferrari 212 Barchetta. Meaning "Little Boat" in Italian it is the shape that defined post-war sports cars. Without it, the AC Ace Bristol, the Siata 208, and of course the Shelby Cobra would never have existed.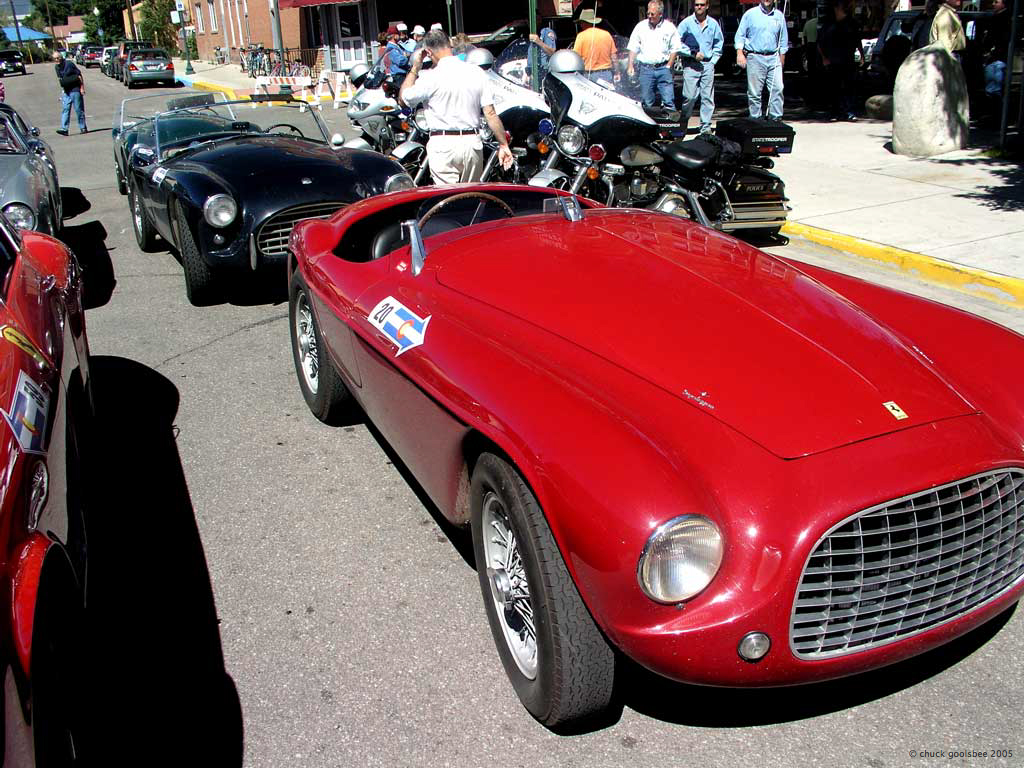 Above: Tracing lineage...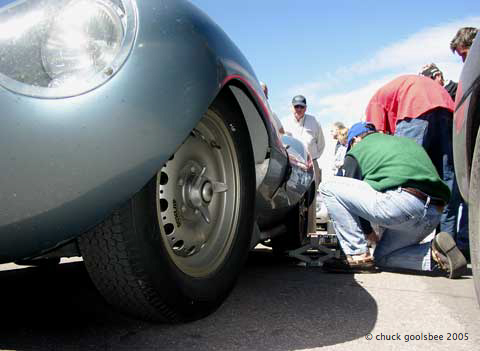 Above: Changing a flat on a D-type Jag.
After what seemed like a long time, somebody removed the barricades that held all the old cars in and we popped out like a cork. Our situation, which at first seemed weird (stuck in the middle of the street) now became an advantage as we were one of the first cars out of Salida (a pun for you Spanish speakers.)
We proceeded north along the Arkansas River headwaters and US 24, past Mt. Elbert, and up to Leadville. Dad was at the wheel, and I was of course left with virtually no rally cars to photograph. I spotted one of the pre-war cars up ahead, the 1937 Delage D63L. Driven by Mark & Nancy Brown from Chicago, it was another car I have yet to see under its own power until now. I encouraged Dad to catch up and give me a chance to photograph it. He was hesitant as it had one of our escort CHP "motors" close behind but I figured the Trooper would allow us to pass, especially if I motioned to him a desire to photograph the Delage. Sure enough as we approached from behind the Trooper motioned us around.
Above: What a pretty car!
About halfway to Vail (where CO 82 forks left off of US 24 south of Leadville towards Independence Pass) we pulled over to switch drivers. A few miles before Dad did something really dumb, notably continuing to pass a couple of cars after he had come to the end of a passing zone. The Trooper who was following the Delage a few hundreds yards back of course saw it and came to (correctly) bitch out Dad for his maneuver. He (amazingly) didn't get a ticket, but as a reward we did have the Trooper follow us all the way to Leadville, even though I was driving now.
We went up and over Tennessee Pass, and as we descended down the north side, just past the old Camp Hale, I noted a hillside on an inside curve covered with turning aspens. It was a perfect spot for photos! I asked Dad if he was in a hurry to get to Vail, and he said no, so I pulled over and tried to fill my memory card with pictures.
Above: My chosen photo spot.
Probably one third of the rally went by, but I missed most of them with my camera. I had it set for action shooting, with rapid exposures, and auto focus (lest the car in the foreground be blurred while the background remain in sharp focus.) It worked, but the timing was very difficult! I got a LOT of pictures of an empty road and hillside, many photos of small cars too far away, and several shots of partial cars. I occasionally was able to get a full-frame car photo. In the interests of full-disclosure I'll share some of each:
Above: two-thirds of a Ferrari 250GT.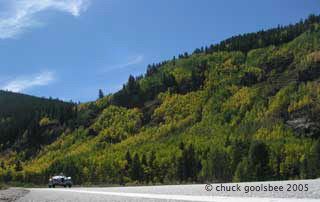 Above: Get out your magnifying glass, it's a Jaguar XK-120!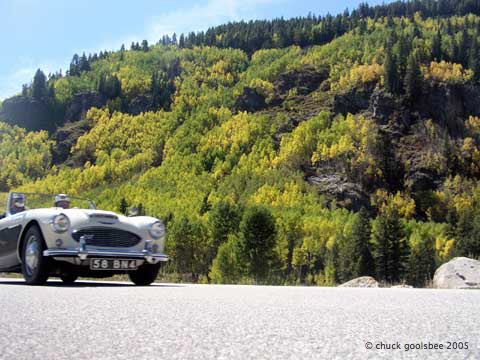 Above: I love this one. Half a Healey, half of the driver's face and a mirror covering the navigator's face. Could I screw it up any more? Oh yeah, a tad over exposed too.
Above: a pretty good shot of a gullwing.
Above: A near-perfect shot of the Colorado Grand luggage truck! Go figure.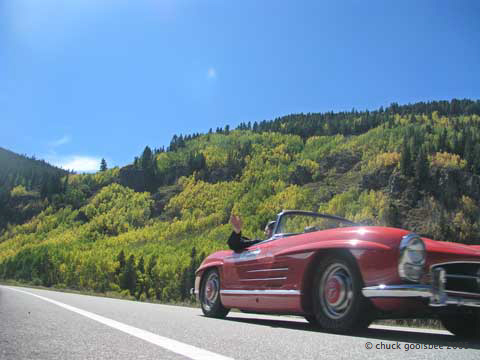 Above: five/sixths of the "other red 300sl roadster," driven by Barry Konier & Ron Johnson.
OK, I hope you get the picture (groan... another pun!) I guess you can see the rest of the borked pics in my "raw & unedited" section. Here is the link.
Dad tried to get a shot of me going by, at relatively low speed too, unlike the rally cars, which were flying through this corner at 50+MPH. He never even got part of the car. I guess I should be happy I got what I did.
The road from here on to Vail is very familiar to me... Red Cliff, Minturn, etc. Driven many times. We rolled into Vail and across the "Finish Line"...
In some ways it is a bit of a let down... an anti-climax. Unlike other rallies I've done with my Dad, this one was really just a "tour" ... there were no checkpoints, no hard route-finding, no speed events... no scorecard to hand to a Rallymaster at the end, totalling our achievements ... or in our case compiling our errors. Instead we were handed some gifts and went to park the car and get our luggage.
Oh well.
We were treated to an excellent dinner, along with a charity auction. I put some bids on a "300sl" Colorado Grand license plate, and two nice Jaguar prints, but was blown away by higher bidders. I did buy a Colorado Grand shirt for my wife though.
My Dad is a funny guy, very much an "in the moment" person. At some point (sometimes many points) during a week of a Vintage Car event, he'll state with a definitive tone: "This is the best one we've ever been on." I don't ever feel that way, as I never really rate them against each other... maybe I'm even more of an "in the moment" guy since I have NEVER had a bad time while doing an event like this. We've done long-distance endurance rallies (with a car falling apart beneath and around us), we have enjoyed mechanically flawless performances (such as this week), we have endured rain and fog in leaky British sports cars, we have had amazing weather and scenery, or miles... days of endless flatlands and cornfields. Me? I love it all. I don't care if we are changing a broken fan belt in some place where nobody speaks English, sitting in the desert next to a dead E-type, or charging up a hillclimb with lots of throttle steering... I have a blast. It is a combination of thrills, camaraderie, adventure, good stories to tell later, and the joys of driving amazing old cars.
I love to go on events like this, and I love to just go drive... making up an event of my own.
Most of all I love to do this with my Father. He is an excellent travelling companion and I'm lucky to be his son. I'm doing what I can to create the same environment for my own two sons, and I suspect it will work out well, as I have a great example to follow.
---
I hope you have enjoyed this web log of our latest Vintage Car adventure. If you participated in the event and would like some high-res copies of photos of your car, drop me an email with some info about what car, and I'll be happy to share.