Today was the first day of driving. We went from Vail to Paonia for lunch, then to Telluride via the Black Canyon of the Gunnison.
Since this is a tour as opposed to a competitive event, there was no formal start. In fact Dad and I went back to the house to drop off some excess luggage. The route left Vail valley via I-70, then US 6. We re-joined I-70 through Glenwood Canyon, then went south and west over McClure pass to Paonia. The town put on lunch for us an everyone came out to see the cars. After lunch I took a bunch of pictures.
Above: Passing Steve & Camilla Brauer's 1931 Bentley 8 Litre as we leave Vail.
Above: Lining up for the ad hoc car show and lunch in Paonia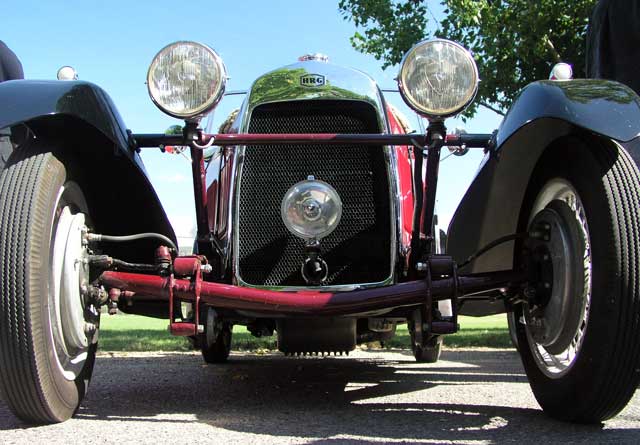 Above: Bob Pattison & Julie Fitzsimmons' 1949 HRG 1500 Roadster. Cool little car!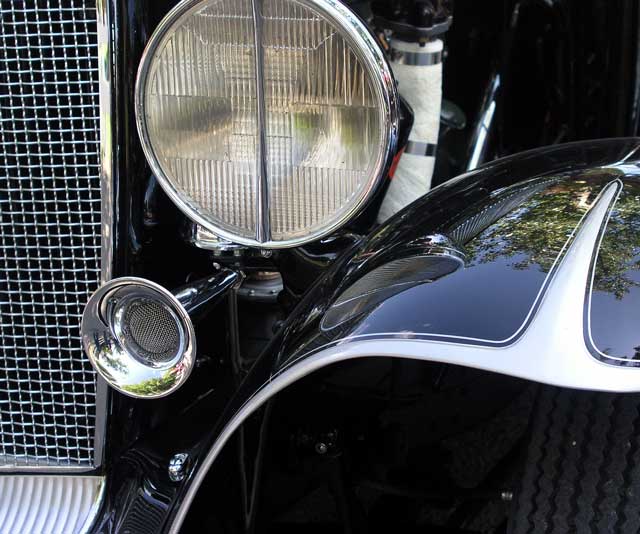 Above: I could look at Auburn Speedsters all day long. Acres of wonderful curves and shapes.
Above: A bug's eye view of the 1956 Zagato-bodied Maserati M6G/2000 owned by Bruce & Leslie Male.
Above: I really love to look at D-type Jaguars.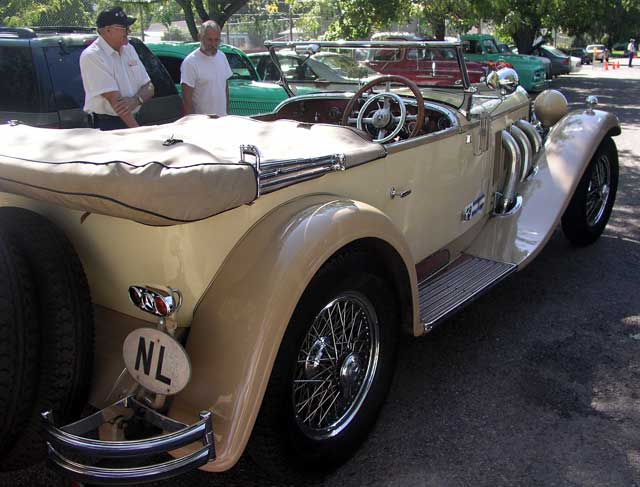 Above: The 1927 Mercedes-Benz 680S "Rennsport" draws a small crowd of admirers. This car came all the way from Switzerland to participate in the Colorado Grand.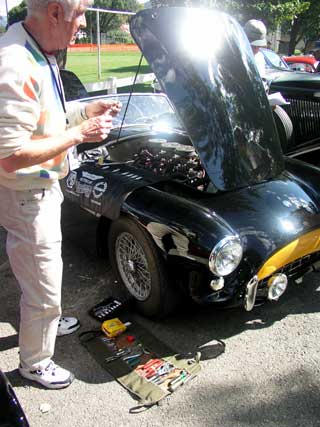 Above: An AC Bristol gets a little work done during lunch.
Above: This is a 1953 Kellison J-4 Roadster. A kit car from the early 50s, this car has a fiberglass body, on a Jaguar chassis, with a 350-ci Chevy V-8 engine.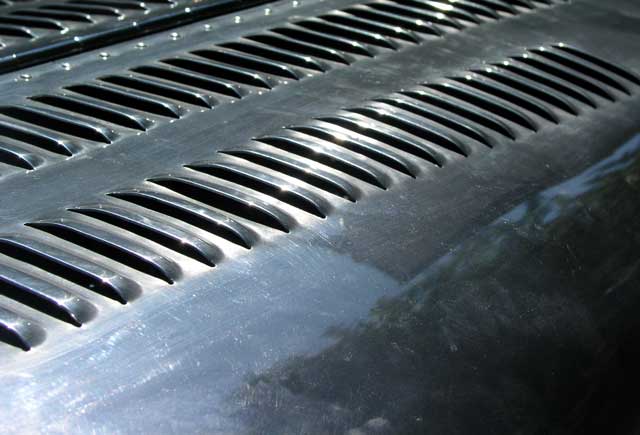 Above: Bonnet & Cockpit of the 1937 Delage D63L. Note the gearshift! What an amazing machine. I could spend a day shooting photos of all manner of interesting details on this car.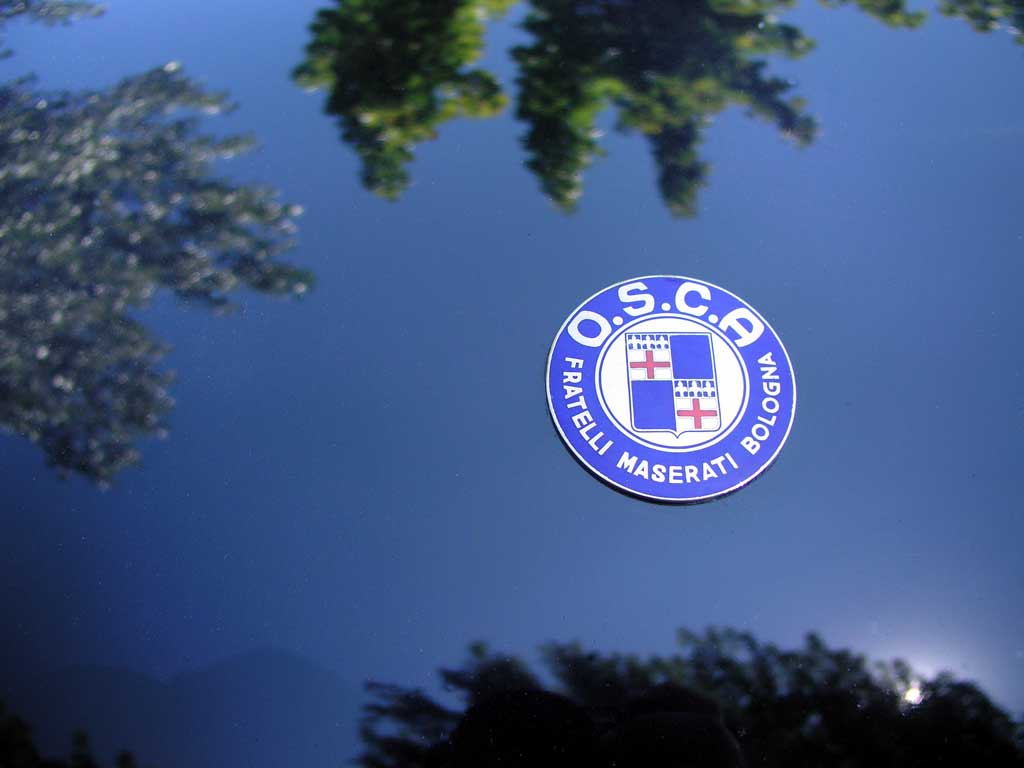 Above: Gorgeous little OSCA 1600GT owned by Jim & Paula Ladwig.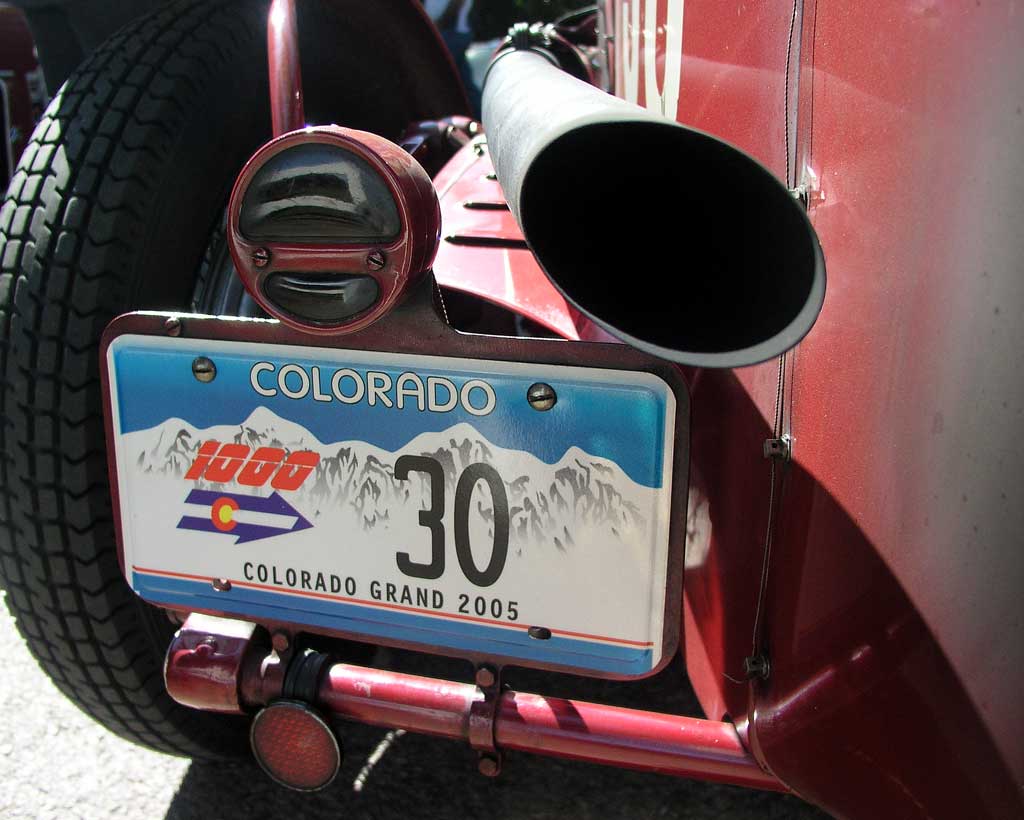 Above: The tail end of a 1933 Alfa Romeo 8C Monza owned by Dennis & Natalie Machul. Enzo Ferrari made his name while managing the Alfa facory team, with cars like this.
---
After all the cars arrived and I'd had my fill of photographs, I ventured inside for my fill of lunch. The town put on a wonderful burrito buffet, followed up by more dessert than you can imagine. It looked like a dessert potluck... everyone in town made a wonderful dessert. I could not resist the blueberry pie, which was awesome. Too bad my two boys weren't here, they would have gone nuts.

After lunch we were sort of blocked from exiting, so we wandered around and looked at a few more late-arriving cars. I stalked Jaguars, while Dad went of in search of the elusive Alfa Romeo SZ1.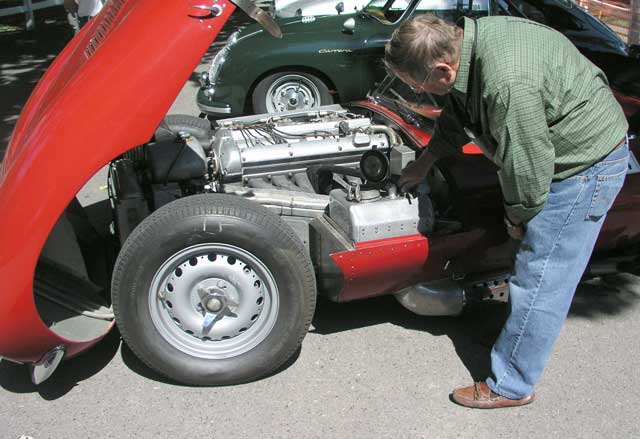 Above: Checking the oil on a Jaguar XKSS.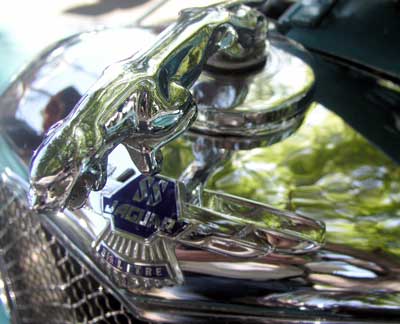 Above: "Leaper" on an SS100. Before the Second World War William Lyon's car company was known as "SS Cars" (derived from their origin "The Swallow Side-car Company", a maker of motorcycle side-cars.) Their first sports car offering was called the Jaguar SS-90 (90 being 90 MPH.) They refined it, squeezed 10 MPH more out of it, and released the ultimate pre-war Jag, the SS-100. At some point during, or just after the war Lyon's dropped "SS" and just kept "Jaguar."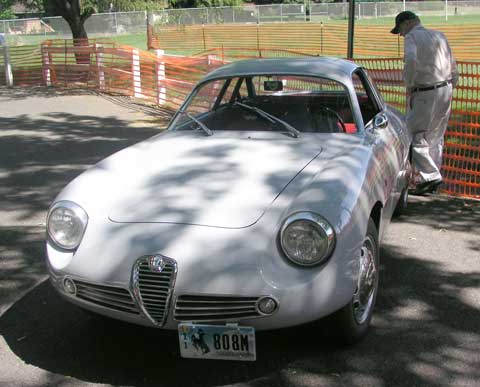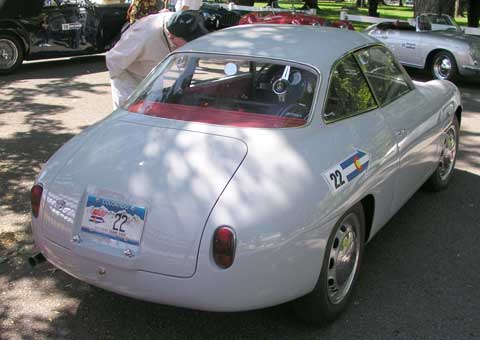 Above: Dad finds his quarry, the Alfa Romea SZ1.
---
From Paonia we drove south and made an easterly left-hand loop around the Black Canyon of the Gunnison. Heading west on US50 to Montrose, then south to Ridgeway and over to Telluride.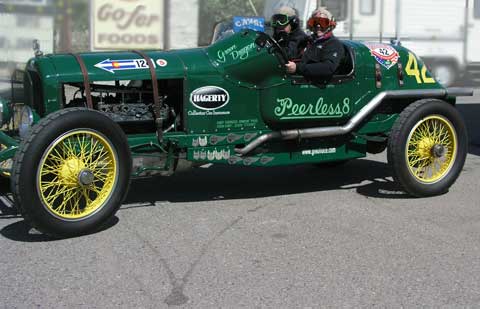 Above: The Peerless 8 pulls in for gasoline in Hotchkiss. This machine has a wonderful sound to it.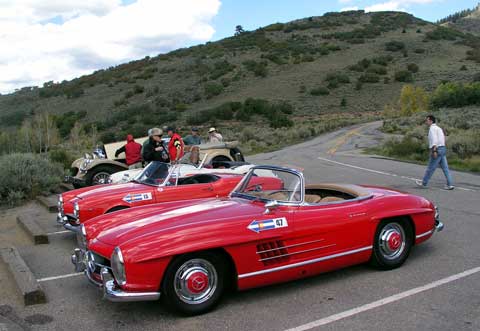 Above: Two Mercs, an Alfa and a big Healey at the Black Canyon Overlook.
Above: The far eastern end of the Black Canyon of the Gunnison River.
Above: D-Type and Siata in my rearview mirror.
Until I edit all my photos, you will have to be content with them presented in raw unedited, un-captioned form here. Enjoy!
Update: Wed night... Today was so eventful that yesterday was sort of bland by comparison. I don't think I'll ever write more or do any photographic laabor, so instead I will provide you a mini-review of driving the 300sl.
Update: a week after the event... I have finally started adding photos back in, but for the sake of historical accuracy, I'll leave in the following. Hope you enjoy it.
The Mercedes-Benz 300sl was introduced to the world in 1954 and was a sensation. It was, in many ways the world's first "Supercar." It was derived from Mercedes' racing cars of the early fifties. Around 2500 were built, between 1954 and 1962, with the "gullwing" coupe from '54 until '57, and a roadster from '57 until '62. They were priced above $10,000 which when average cars were under $1000, is like multi-hundred thousand dollar cars today. This is a very simple and general introduction... you can read far better histories elsewhere on the Internet, so I won't say more. What I can tell you about is driving it.
The best way I can describe it is that the car has two distinct personalities. It is a Mercedes-Benz, so it is comfortable, smooth, and handles very well for a car of its vintage. It makes a fine sedate cruiser. However, rev the engine above 4000 RPM and it becomes a snarling monster of a car with obvious racing heritage.
It does have drum brakes and lacks power steering so your average Toyota Camry is much easier to drive. But for that era, it was the pinnacle of automotive engineering. I have driven other cars from the 50's and this one SEEMS almost "modern" in may ways. The only thing that you really notice getting into the car is the very wide sills. Prior to the development of monocoque chassis later in the 1950s, open topped cars required a lot of structure in the lower half to make them rigid. Hence the wide sills. For a guy of my size (just under 6' tall) it does make getting in and out when the top is up difficult. Nowhere near as hard as my mid-sixties Jaguar E-type mind you, as "Ergonomics" was an unknown concept in Coventry! The seats are comfortable and the overall ergonomics of the position of the wheel, controls, and pedals is excellent. What really sets the interior apart from other cars is the impeccable fit and finish. There is no doubt you are in a Mercedes-Benz. Leather, aluminum, and painted steel. All assembled with perfection in mind. The top, when up, fits very well, provides enough headroom for somebody taller than me. Wind noise is minimal. Leaks nonexistent. Windows roll up and meet with the top and seal perfectly. The top raises and locks with ease, and folds away invisibly inside a well-designed compartment. It is obvious that a LOT of design, engineering, and thought went into building this car.
Driving it is interesting. It handles heavily compared to a car of today, but compared to contemporary machines the handling, ride and "drive-ability" are astounding. Pre-war cars were tall and narrow (think Packard, Bentley, Mercedes-Benz, and Auburn) and immediate post-war cars were either just big (American cars) or miniscule. The 300sl was one of the first low-wide designs. The inline six engine was tilted over on a diagonal to lower the front of the car (the twin ridges in the hood help clear the cam cover and intake manifold.) The low-slung design makes it feel solid on the ground like a modern car. It is pleasant and quiet to drive at low speeds. The gearing (in this example at least) is capable of puttering about quietly at any legal speed. However if high speed or uphill pulling is required, you need to really rev it up. When you rev the engine up above 4000 RPM (it redlines and 6000) the car literally comes alive and behaves like the racer it descended from. Below 4000 RPM it seems rather lackluster actually. Unlike my Jag for example, which has mountains of torque at virtually any RPM, the 300sl feels rather poky until you hit that magic 4000 RPM line. However at 4000 RPM the car goes from being luxury-car quiet and smooth to a "strafing Messerschmitt" of a monster. The engine, with its mechanical fuel injection system just bellows out noise at high RPMs. In fact it becomes a bit distracting and it sounds like the thing is rattling its way apart. In reality this engine can run for hours at 6000 RPM, the question is how long can the driver take it. Passing is odd because unlike a really "torquey" engine like a Jaguar XK, where just some application of throttle will rocket you forward, in the 300sl you MUST downshift into third and rev the engine up really high to get the immediate acceleration you desire.
Overall I think the 300sl deserves the iconic stature it has held for 50 years. The design is elegant, sporty, and decades ahead of its time. Nowhere can you point to any flaws or obvious afterthoughts. It drives better than many cars built decades later, and holds its own in terms of performance, ESPECIALLY when you factor in the overall quality and comfort found in the interior spaces.
OK, take me to the next day!