Great weather today (in fact it was so overly sunshiny that my digital camera was seeing a lot of washing out and over exposure.)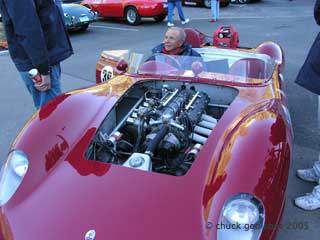 Above: A Maserati gets the Weber Carburettor equivalent of morning coffee (note the can in the hand on the left.)
We made a long left hook through Durango, Ignacio, Arboles (near the New Mexico border), Pagosa Springs, Wolf Creek Pass, South Fork, Creede, to Lake City for lunch. After lunch we went down north to Gunnison, then up to Crested Butte for the night.
It was a wonderful day of driving, with mostly open roads, and spectacular weather.
Above: long line of rally cars leaving Durango.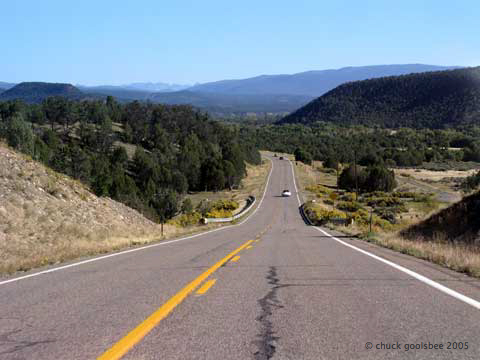 Above: Somehere between Arboles and Chimney Rock.
I havn't been in Durango in over 20 years, and it shocked me how much it has grown. It looks like a suburb of Denver. An odd thing I noticed about Pagosa Springs (another town I haven't seen in a few decades) is that all the growth on the west side of town is on one side of US Highway 160. Literally no commercial building on one side, and strip malls, fast food, gas stations, etc on the other side. Weird to see (I only noticed because we needed gas, and I would prefer not making two lefts to do it.)
Above: ascending Wolf Creek Pass.
Above: The little Osca follows us up the pass.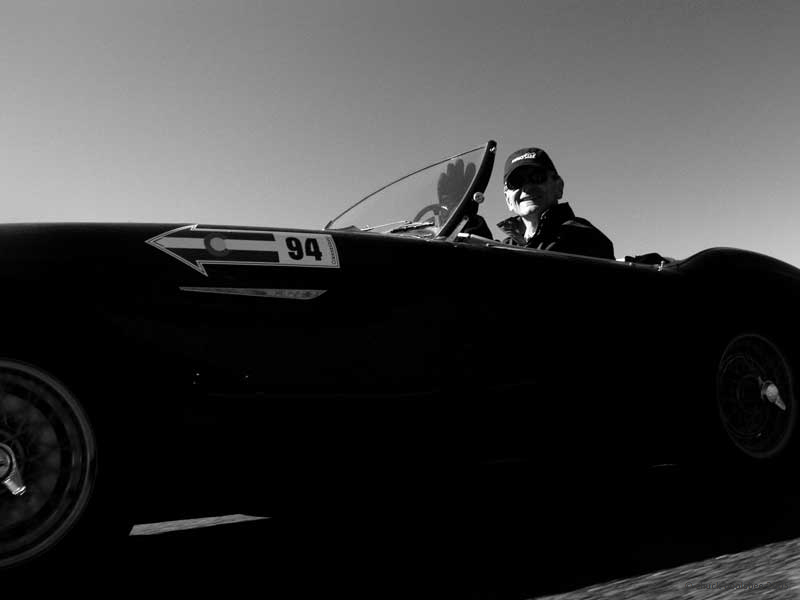 Above: Garrett Bouton waves from his Healey 100-M.
I shot this almost directly into the sun, and the colors just blew out. It became a usable image in greyscale, so there you go.)
Above: Mike and Debbie Barber's Jaguar XK-140.
Another into the sun shot, at least the color was somewhat salvageable.
As we climbed Wolf Creek Pass Dad wound out the 3-liter straight six and managed to blow by a string of rally cars. I did my (almost clichˇd but effective) trick of hanging my camera out the door sill and shooting cars as we passed. I love the low angle look of a car in motion, but since I can't get my eyes down there I never know how the shots will look. Sometimes the are amazing, sometimes they are garbage. I get a lot of sky, trees, blurred pavement, and bits of cars, but SOMETIMES I get a good one. This time I was shooting almost directly into the sun and forgot to turn on my flash. Oh well.
On the way back down the pass we ended up waiting about 45 minutes for some construction delay. The Frazer-Nash Le Mans Coupe driven by Bill and Evan Roberts (another father/son team) was behind us so I got a good look at this unique car.
Above: Waiting for the blasting to cease.
Down off the pass and heading toward Creede, with the Frazer-Nash behind us we were making "good time" and I saw, far ahead an SUV parked off in some trees. My well-developed "smokey sense" said "that is a cop" but for some reason I didn't say anything out loud. We've seen LOTS of SUVs parked on the side of the road, usually a fly fisherman out tempting trout from a nearby watercourse. I should have listened to that very reliable devil on my shoulder because sure enough, it was a Sherriff.
Oddly enough he asked us what kind of cars we were driving (apparently spotting classics is not taught at the Police Academy) and when he heard "Frazer-Nash" and "Mercedes-Benz" he let us off with a warning. Apparently he was really trolling for Ferraris. He told us that a huge Ferrari club event was expected through the county over the weekend and he was practicing catching Ferraris. I guess he just assumed Red+Fast=Ferrari.
We dutifully drove slow through the rest of the county, while countless rally cars buzzed past us. (OK, I'm exaggerating a bit.)
The road from Creede to Lake City was awesome, with the Rio Grande headwaters, and two high passes; Spring Creek Pass (10,901') and Slumgullion Pass (11,361'). We switched drivers just before we left the Rio Grande's first valley, and I took the wheel over the passes. I ended up passing a large group of rally cars stuck behind two pre-war machines (a Bugatti and a Bentley.) I was passed by an Aston-Martin as I was loafing in high gear but then was wedged behind him for the rest of the trip over and down Slumgullion. The only reward was shooting pictures of the green Aston against the background of turning aspens.
Above: Aston-Martin coming down Slumgullion Pass.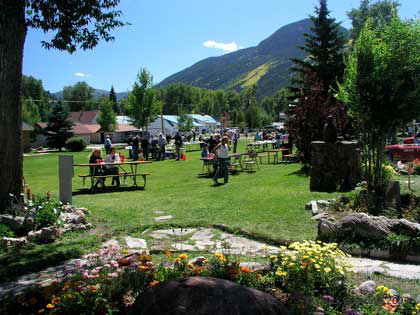 Above: Lunch in Lake City.
We arrived in Lake City, a gorgeous little town in a gorgeous location. Just like Paonia a few days before, the town all came out and put on a great lunch and impromtu car show in the park. We ate our chicken burgers, homemade potato salad and cookies, while drinking our homemade lemonade. Awesome. It looked like the whole county showed up for the lunch and show. The most curious were two dogs who sat in a second storey window and watched all the events unfolding below.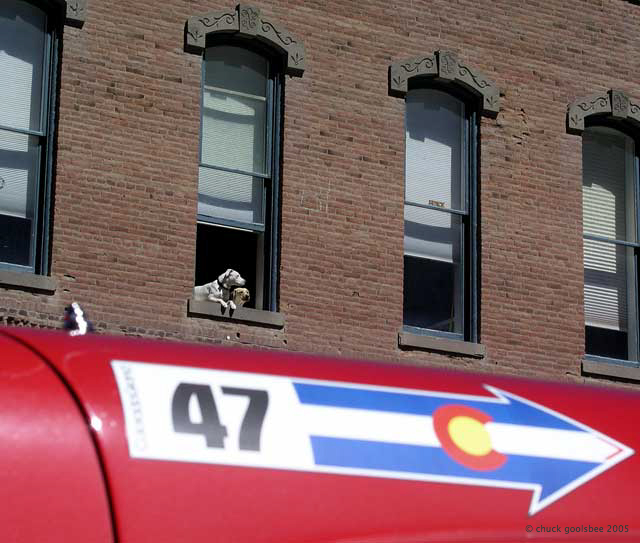 After I finished my meal, I ran around taking lots of photos. I don't have time to edit them for here, but I'll toss in my obligatory raw photo link later. Apologies for the D-type obsession... I have to admit I have always been fascinated by them. I own an E-type, which is as close as I'll get to a "D" for quite some time other than events like this. When I was a kid I had some Matchbox D-types (and some Jim Hall Chaparrals) and those primitive aerodynamics have been imprinted on my brain. I was lucky enough to see the Chaparrals in person at Elkhart Lake Can-Am races as a child, but I had never seen a D-type in the flesh until a few years ago. I had never seen one running under its own power until last year, and here I am surrounded by three running D-types, and two XK-SS'... I'm in heaven.
We left Lake City, and in that strange bit of karma I was in the passenger seat and we were out on open road with not another rally car to be seen anywhere... I swear when I am driving we are surrounded by gorgeous cars and I am unable to shoot photos of them, but as soon as we switch, and I am free to photograph, all I can see are pickup trucks and mountains. So we drive 50+ miles and see almost nothing. I say almost because I was rewarded with one of those serendipity moments where we were alone on a road with a gorgeous car, with a perfect background, near-perfect lighting, and no other traffic around. I got a sequence of very nice shots of a 1957 Maserati 200SI being driven by Herb Wolfe and Elliot Rabin. (yes, the same Maser that was getting an ether jump start this morning.) Herb and Elliot were loafing along on the empty road and I told Dad to pass them slowly. I set up the camera with the filter just right, and the drive set to auto-focus and continuous shooting. I opened the door (yes mom and wife, I had my seat belt securely fastened!) and hung the camera as low as I dared and started shooting. You have already seen one shot at the banner, but here are a few more:
---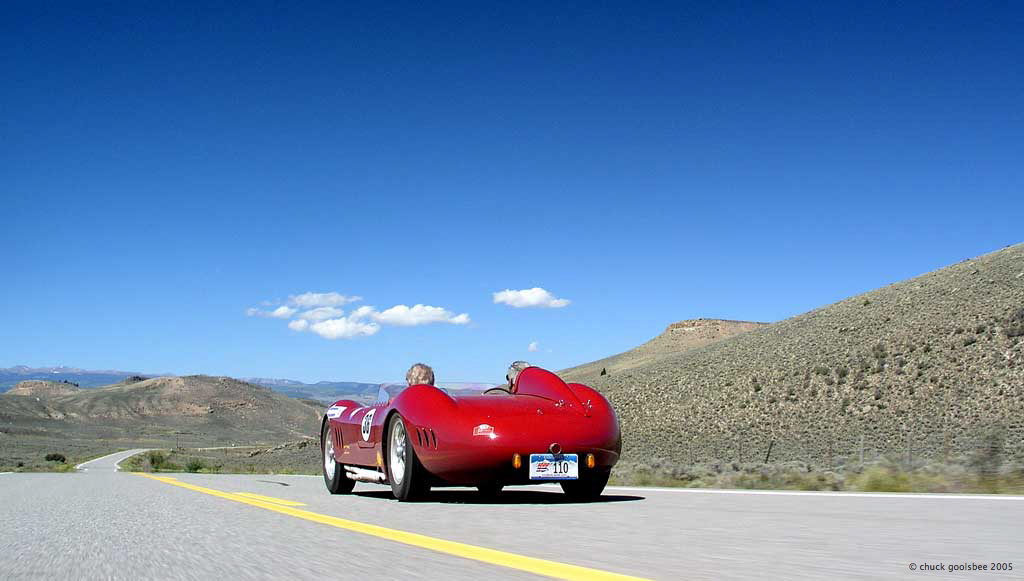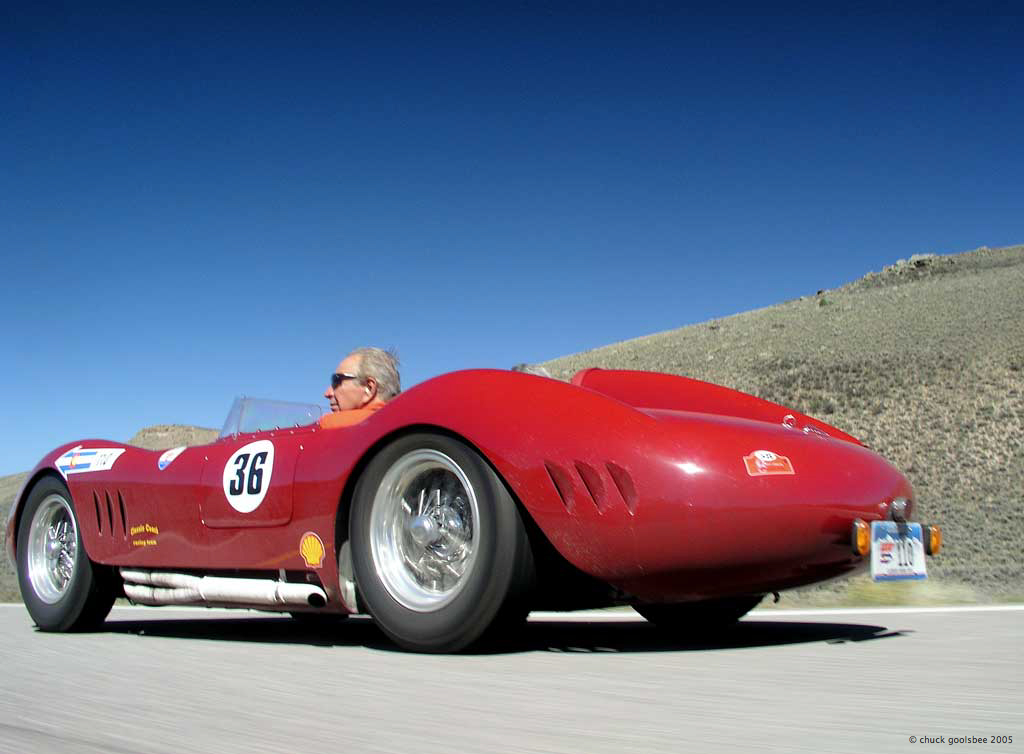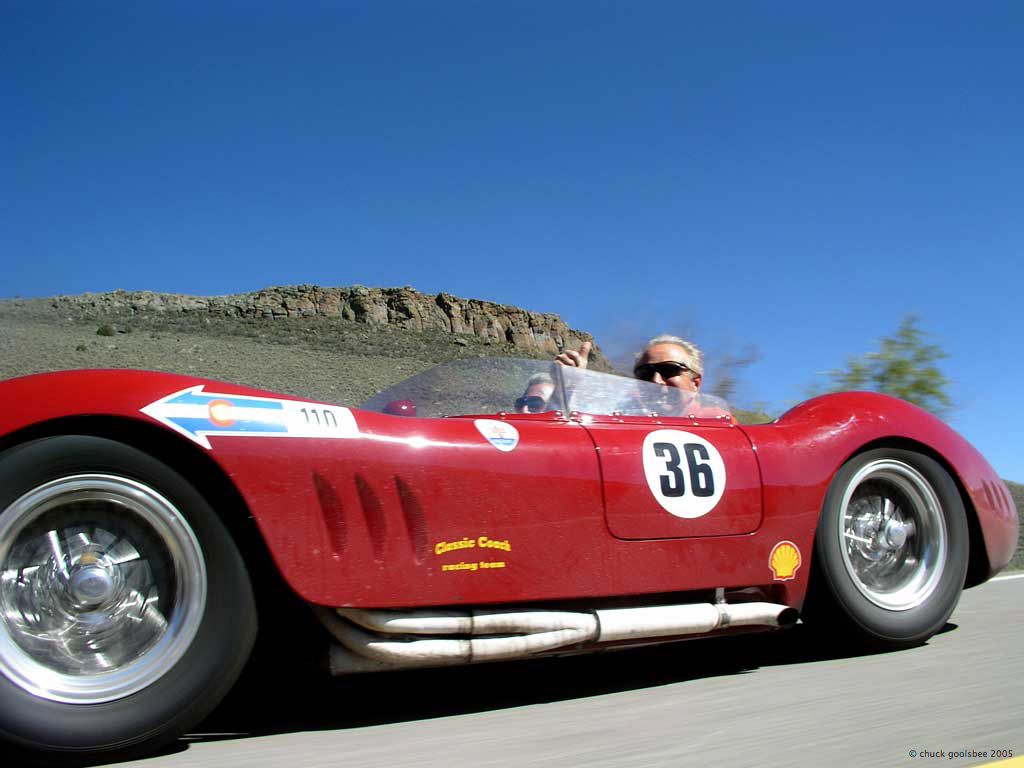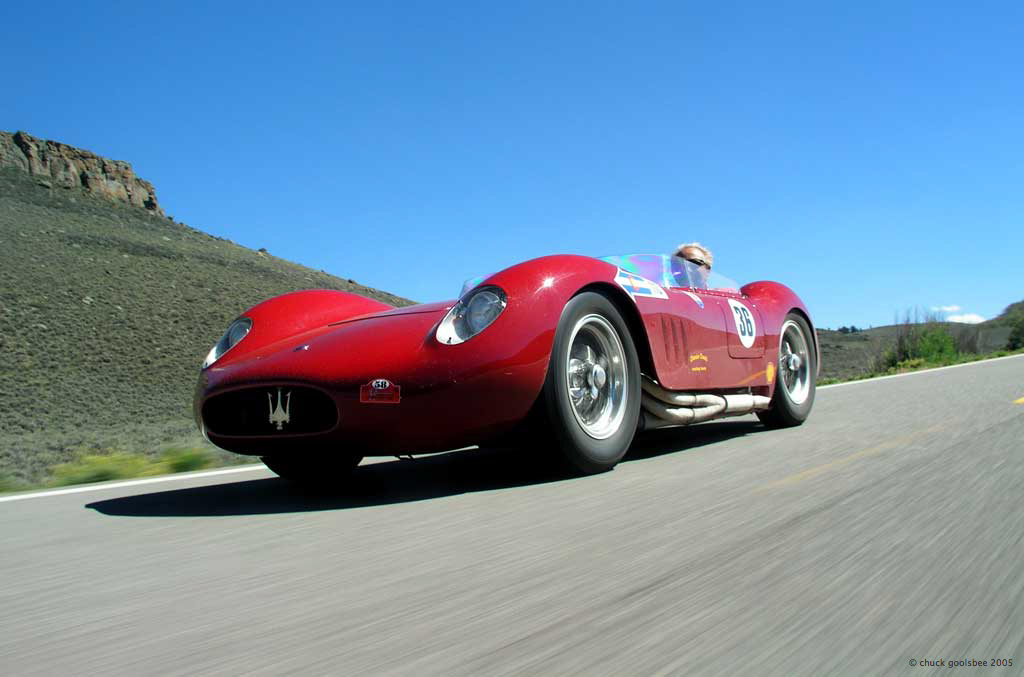 ---
I could look at those all day.
What a lucky sequence of events to put me there with that car, with that light, with that open road. Wow.
We followed the route down to the Gunnison River, where we switched drivers and I took it in to Crested Butte. The road from Gunnison (the town) to Crested Butte was crowded and slow. I could not appreciate the scenery since I was surrounded by trucks and a church van... being driven like the driver would prefer to ascend to the afterlife sometime in the next 5 miles. There was just enough oncoming traffic, at frustratingly even intervals so that passing required divine intervention. Eventually I was lifted from motoring purgatory and made my way around the Blind Faith Mobile, and put a few cars between myself and the Chosen One On Wheels. I'm OK with his desire to meet his maker, but not while I'm driving nearby, thank you.
We made it to Crested Butte intact, and enjoyed a dinner with mediocre food (I think the salmon left the water sometime in spring, 1989) and wonderful conversation. A lively but friendly debate was enjoyed about vintage car values and what constitutes "original", "replica", and "fake" with old cars. Very thought provoking. Especially considering the wealth of knowledge and experience at the table (a world renown collector, a car museum curator, etc). For me it was like playing hockey with Wayne Gretzky and Gordie Howe... or climbing with Yvon Chouinard and Fred Beckey. I'm not even close to their league but I learned a lot by playing along.
Tomorrow is the last day, so I'm off to sleep. Meanwhile you can peruse my album of raw, unedited photos from today, including the lunchtime car display. Enjoy!
OK, take me to the next day!